The Fashionistas Show in Las Vegas
Book your tickets online now!
"Magnificent... Ahead of its time!" -- Robin Leach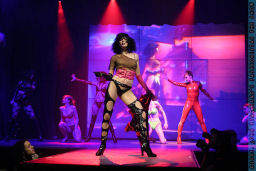 The Fashionistas, John Stagliano's erotically charged Las Vegas adult entertainment production of fetish and fantasy, was chosen as one of "Las Vegas' 10 Best Shows," by the Las Vegas Review Journal. This marks the first ever appearance for an erotic Las Vegas show of this kind on The R-J's 10 Best List, which beat out such mainstream high-budget production shows as Celine Dion's "A New Day." Fashionistas also was picked by the staff of the Review Journal as having the Best Choreography of any Vegas show and received numerous rave reviews from other respected publications as Las Vegas Weekly, Callback News and entertainment icon Robin Leach.
The Fashionistas is a gender-blending erotic extravaganza and a unique entertainment option never before seen on the Las Vegas Strip. With what critics call a "muscular and aggressive" staging technique, a hard-driving soundtrack, imaginative and unique costumes, and a humorous and sly story line, the Fashionistas pushes the envelope of human form, fashion and spectacle in high style.
The costumes designs, ranging from simplistic to stunning, are all memorable. And the large cast and high production values found in such an intimate setting enhance the visceral power of the show.
Utilizing music from Evanescence, Madonna, Tool, Lords of Acid, Crystal Method, and Led Zeppelin, the story is told in dance through the mood and words of each song, as well as through the use of dramatic images projected on large video screens.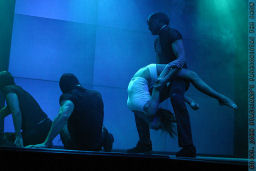 Stagliano goes the extra steps to add impressive little touches that make a big difference, including having a live drummer accentuate the hard driving sound track. The result is a show that's more erotic than any other show on the strip; it is both humorous and sly without being campy or cheesy.
Since opening in October 2004, Fashionistas has drawn rave reviews.
Management reserves all rights and this offer is cancelable at any time without notice.
This show takes place in the Aladdin Las Vegas Hotel Casino
Show runs nightly at 9:30pm, dark on Wednesday.
Retail prices for General Admission Seats are $54.95 and VIP Seating $76.95
Retail price includes any box office fees and live entertainment tax. All tickets are subject to a vendor service fee that varies based on the show and the venue.
Ages 21 and over only.